Weight Capacities
Curb weight (kg): 1135
Fuel tank capacity (L): 40

Dimension
L/W/H in mm: 1645*3645*1725
Ground clearance: 210 mm
Wheelbase: 2250 mm

Warranty
Manufacturer Warranty: 1 years / 30.000 km (whichever comes first)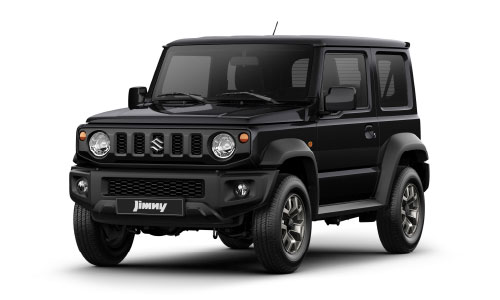 WHY CHOOSE JIMNY ?
The Jimny is extremely driver friendly. On the road and in the rough, its high-performance features make handling easy for professionals and novices alike. Where you point, the Suzuki Jimny follows. Its power steering provides not only welcome assistance in tight manoeuvres, but helps keep the Jimny tracking true.
FOR PERFORMANCE
The Jimny stops as smoothly and surely as it goes. High-performance brakes are utilized on all four wheels, and the front disk brakes are of a large diameter for efficient heat dispersion. Since an 8-inch vacuum servo amplifies the force you apply to the brake pedal, little effort is required to bring the Jimny to a halt. As a safety precaution, Suzuki includes an LSPV (Load Sensing Proportioning Valve) that helps prevent premature locking of the rear wheels during sudden braking and improves braking performance when the vehicle is fully loaded. Compact dimensions also contribute to the Jimny's handling.
In the city, they help you slip through heavy traffic and into small parking spaces with ease. In the woods, they help you squeeze between boulders and trees. Unbeaten paths that would challenge other vehicles are a breeze in the Jimny. You'll climb hills with confidence thanks to generous approach and departure angles and excellent traction enhanced by radial tyres with universal tread. Take the Jimny for a test drive and discover for yourself just how fun driving can be.