Weight Capacities
Curb weight (kg) : 875
Fuel tank capacity (L) : 37

Dimension
L/W/H in mm : 3845*1735*1530
Ground clearance : 145 mm
Wheelbase : 2450 mm

Warranty
Manufacturer Warranty : 1 years / 30.000 km (whichever comes first)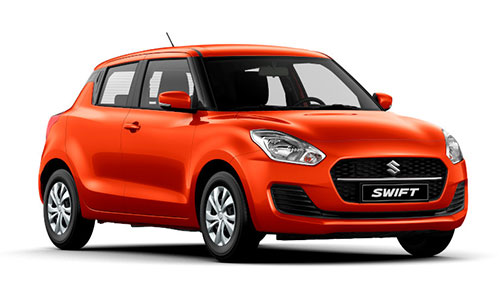 THE NEW LEADING SPORTS COMPACT
The Swift's most fundamental attributes are its light, compact body, emotionally appealing styling, and dynamic performance and handling. With the Swift, driving a compact car does not mean having to settle for less; within its modest dimensions, Suzuki was able to condense all the performance, handling, and other attributes needed for great enjoyment and satisfaction without putting an excessive burden on the environment. The Swift is an unmistakable embodiment of Suzuki's "Way of Life!" brand philosophy.
A LOOK THAT'S TIMELESS YET CHIC
The distinctive style of Swift : a mixture of sensual curves and sculpted edges, it will not leave you indifferent. It has LED arrays in the fog glasses enhance the character of Swift.
The interior of the Swift is as elegant as its exterior. The main color is black, for a sophisticated design that combines refinement and sporty style. Seats with improved ergonomics and support, highly readable instruments, a variety of driving equipment and controls placed for intuitive access allow you to fully concentrate on driving.
BE NIMBLE, BE SWIFT
In town or on winding country roads, Swift offers handling and agility. It is easy to handle, has a rigid body and firm suspension, combined with disc brakes, adherent tires and a communicating steering system. It has a power engine, all with incredibly low fuel consumption and emissions. Swift proves that a car can be smaller and more energy efficient while providing a sporting experience.
The Swift has safety and security technology that allows you to drive with confidence and peace of mind wherever you go. The use of high strength steel makes the body light but solid. And also, the Swift has a shock absorbing structure to minimize pedestrian injuries. Active safety features such as ESP® * (electronic stability program) help drivers avoid problems while a highly protective cabin and other passive safety devices such as 7 airbags are in place to absorb impact.